31/10/2017, Yanditswe na Tharcisse Semana
Politiki na business ntacyo bipfana na mba. Burya umubano wa byo ni nk'uwo umugabo n'umugore babana bya nyirarureshwa; aho umwe ahuga, yahuguka agasanga undi kera kabaye, yamunyuze inyuma inshuro zitabarika kandi ataniteguye kubizibukira. Iyo bigeze ariko noneho mu bihe by'amage, aho isari iba yambye isesemi, business yihimura kuri politiki. Igitangaje kandi kiremereye ni uko, uko kwihimura kwa business kuri Politiki bikorwa hatitawe na mba kuri  »kirazira » gutatira igihango cy'uwo mwasangiye, cy'uwo mwasuranye cyangwa mwasukiranye [uducuma]. Iby'umuyobozi w'ishyaka «Isangano-FPP», Minani J.M.V, muri business twise iy'amaraso, ni uko biteye. Muri iyi nyandiko turabagezaho iby'uyu munyapolitiki, Minani J.M.V, ubu bivugwa ko ari mu maboko ya polisi n'ubutabera mu gihugu cy'Ubudage aho atuye. 
Minani Yohani Mariya Viyana  ni umuyobozi w'ishyaka «Isangano-FPP», uba mu gihugu cy'Ubudage nk'impunzi ya politiki. Uyu musore wigaragaje nk'umunyapolitiki yagiye yumvikana mu ibitangazamakuru bitandukanye bikorera mu buhungiro (harimo n'UMUNYAMAKURU), avuga ko afite umutwe w'ingabo za gisirikare muri Repubulika iharanira demokarasi ya Kongo (RDC).
Imbarutso y'itabwa muri yombi kwe na polisi y'Ubudage ni ibikorwa bya politiki yavangavanze n'ugushakisha amafranga ku ngufu anyuze mu bucuruzi bw'amabuye y'agaciro ya Kongo (ku buryo butanemewe n'amategeko), aho avuga ko afite umutwe wa gisirikare. Muti ibye biteye bite rero?
Buregeya Ndayisaba Ali Ahomed, ni umusore w'umunyarwanda ubera mu gihugu cy'Ubuholandi ku buryo busanzwe bw'abinjira n'abasohoka, budafite aho buhuriye na mba n'iby'ubuhunzi. Muri iki gihugu cy'Ubuholandi, uyu musore ahaba yikorera ku giti cye. Bimwe mu byo azwiho cyane ni uko ari umusore wemera ko ari mu bwoko bw'abatutsi kandi akaba atemeranya na bamwe bo mu bwoko bwe, uburyo FPR-Inkotanyi iyoboye igihugu.  N'ubwo ariko adashyigikiye na mba FPR, ntago ashishikajwe cyane no guhirimbanira ko ubutegetsi bwayo bwarindimuka vuba na bwangu (n'ubwo iyo muganiriye wumva abyifuza); ahubwo ashishikajwe cyane cyane no kwikorera business. Ubwe yiyemerera ko ahora akora ingendo z'urujya n'uruza mu bihugu bitandukanye byo muri Afrika, agamije kwishakira icyashara.
Minani Yohani Mariya Viyana uba mu gihugu cy'Ubudage n'uyu Buregeya Ndayisaba Ali Ahomed uba mu gihugu cy'Ubuholandi baraziranye cyane. Ukumenyana kwabo kwatangiriye i Ruhande aho aba basore bombi bigaga muri Kaminuza y'URwanda. Nyuma y'i Butare (aho bari bafitanye ubushuti busanzwe gusa bwa kinyeshuli), kubera impamvu zitandukanye (buri wese ku buryo bwe yihariye), bagiye kwibona bibona bose bari i Burayi, umwe mu Ubuholandi naho undi mu Ubudage.
Minani Yohani Mariya Viyana na Buregeya Ndayisaba Ali Ahomed  bamaze kugera imahanga (i Burayi) batangira gushudika no gutsura umubano nk'abantu bari basanzwe baziranye. Ubwo bushuti bwabo bwari bumaze hafi imyaka igera kuri ibiri. Imiryango yabo yagendereranaga ariko uwa Minani ukaba ariwo ukora iyo bwabaga kurusha uwa Buregeya Ndayisaba Ali Ahomed.
Mu gihe kingana n'imyaka hafi ibiri yose Minani Yohani Mariya Viyana na Buregeya Ndayisaba Ali Ahomed bari bamaranye, Buregeya yemeza ko umuryango we wasuye ukanarara kwa Minani inshuro imwe gusa rukumbi, naho ngo uwa Minani wo ukaba warabasuye nyinshi cyane ariko ukaba waraye iwe nk'inshuro hafi zigera kuri eshanu.
Ubutekamutwe burabatanyije….
Muri uwo mubano wa Ndayisaba Ali Ahomed na Minani J.M.V, ibintu byatangiye ari sawa sawa biza kugera aho uyu Ndayisaba Ali Ahomed yimariyemo wese wese Minani, maze amubitsa ibanga ry'uko afite isosiyete aho mu Ubuholande akorana nayo business mu by'amabuye y'agaciro. Akimara kubigeza kuri Minani, byabaye nko korosora uwabyukaga kuko ngo nawe yahoraga aneka neka uyu mushuti we  Ndayisaba Ali Ahomed ngo amenye abo akorana bo business.
Mu gushaka kumenye imvaho y'uko ibintu byagenze, twashakishije aba bagabo bombi ngo tuganire. Mu butumwa butandukanye bwose (guhamagara na telefone no kohereza ubutumwa buhinnye hakoreshwejwe whatsapp) twamwoherereje mbere y'uko atabwa muri yombi, Minani nta gisubizo yaduhaye. Ndayisaba Ali Ahomed  we yashoboye ku twitaba atubwira ko hashize igihe kigera ku myaka hafi ibiri Minani J.M.V agerageza kumwiyegereza ariko ngo we ntamenye ko agambiriye ku mutekaho umutwe no gushaka uko azamugirira nabi.
«Yagerageje kumwiyegerezaagera n'aho azana umugore we n'abana be kudusura inshuro nyinshi mu Ubuholandi. […] byarangiye amenye neza ko nkora ubucuruzi [bwa zahabu, ndlr]. Hanyuma yaje kumpamagara ambwira ko abahungu be bari muri Repubulika ya Kongo (RDC) bafite ibiro 600 bya zahabu (Gold) ko ashaka isoko. Twagiranye amasezerano […] twemeranya ko nzahurira n'abo bahungu be i Buganda turi kumwe bakazimpa».
«Ku munsi twari guhagurikira, yambwiye ko agize ikibazo cyihutirwa ko ngo byanze bikunze agomba kujya i Paris. Cyakora yaje kundeba aramperekeza angeza ku kibuga cy'indege Amsterdam. Mbere y'uko dutandukana ngo nurire indege yansabye ko twifotoranya kugirango yoherereze ifoto umwe muri abo bahungu be twagombaga guhurira i Kampala akampa Zahabu nanjye nkamushashura». Reba hasi aha, ifoto y'urwibutso Minani na Buregeya Ndayisaba Ali Ahomed bifotoranyije ku kibuga cy'indege Amsterdam, hasigaje iminota mike cyane ngo rutemikirere uyu Buregeya Ndayisaba Ali Ahomed yari bugendemo yerekeze Entebe (Uganda) inyuze i Nairobi.
Buregeya Ndayisaba Ali Ahomed amaze kugeze i Kampala, aho yagombaga guhura n'abahungu ba Minani bakamuha Zahabu hanyuma nawe akabashashura, bamubwiye ko bakeneye amafranga angana n'amadolari y'amanyamerika ibihumbi ijana na mirongo itandatu magana inani (16.800$), ngo yo kwishyura amahoro (taxes). Buregeya Ndayisaba Ali Ahomed ntiyajuyaje yahise yikura inoti arashashura yibwira ko agiye kuronka icyashara cya Zahabu, kuburyo bunyuze mu mucyo no munzira z'ubucuruzi bwemewe. Mu kanya gato cyane, Minani yambwoherereje ubutumwa bugufi kuri telefoni amubwira ko ayo mafranga abaye make, ko abahungu be bavuze ko adahagije ko bashaka ko abongera andi agera ku bihumbi icumi by'amayero (10.000ϵ).
Muri ako kanya niho uyu  Buregeya Ndayisaba Ali Ahomed yatangiye kugira akantu ariko akomeza kwizera ko ibyo Minani amubwira wenda bifite ishingiro. «Nahise mbwira partener (uwo nkorana nawe ubucuruzi, ndlr) wanjye uba mu Ubudage  – kubera ko na Minani ariho atuye – kujya kureba uyu Minani ngo amumpere ayo mafranga kuko njye nabonaga ntangiye gushirirwa. Partener (uwo nkorana nawe ubucuruzi, ndlr) wanjye ageze kwa Minani, uyu Minani yahinduye imvugo, ambwira uyu mucuruzi nkorana nawe (partener) amubeshya, ko twemeranije ko amuha ibihumbi (30.000ϵ). Uyu mucuruzi nkorana nawe (partener) kubera ikizere dufitanye yahise ayamuha, ariko bakorana inyandiko». Reba hasi aha iyo nyandiko bakoranye uko iteye.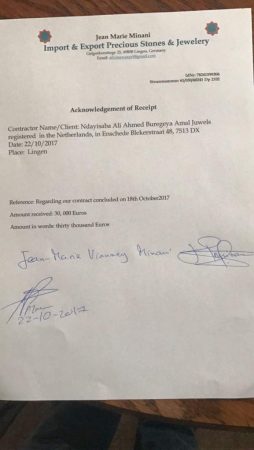 Igitangaje ariko muri ibyo byose ni uko nyuma y'uko uyu Minani yari amaze kubona ayo mafranga yandi (30.000ϵ), yahindukiye akabwira uwari inshuti ye Buregeya Ndayisaba Ali Ahomed ko yabuze uko ayoherereza abo bahungube i Kampala. Buregeya Ndayisaba Ali Ahomed akomeje kumushyiraho igitutu ambwuka inabi amubwira ko ayo mafranga yahawe (30.000ϵ) agenewe abahungu be basigaye mu birombe muri Repubulika iharanira demokarasi ya Kongo . Birumvikana ko uyu Buregeya Ndayisaba Ali Ahomed yahise agwa mu gahundwe, akumirwa.
«Nahise numirwa amarira arashoka, ariko biba ibyabindi by'abagabo ngo atemba ajya munda, ndihangana. Namusabye gusubiza gusubiza amafranga ngo ibyari business tubihagarikire aho ariko we   akanyohereza ku bahungu be bari aho nari i Kampala, kandi azi neza ko nta masezerano nagiranye nabo ko ariwe ahubwo tuyafitanye. Nabaza abahungu be, bo bakambwira bati: amafranga twamaze kuyakoresha baza Minani. Nyuma mbonye ibintu bibaye birebire, Mnani anyuka inabi ansaba gutanga amafranga cyangwa guhitamo ibiza kumbaho».
Fungura hasi aha wumve amajwi ya Minani n'uburyo yakoresheje n'umufashawe ngo batere ubwoba Buregeya Ndayisaba Ali Ahomed ave ku izima atange andi mafranga yo kwigura cyangwa ahebe ayo yari amaze gushashura.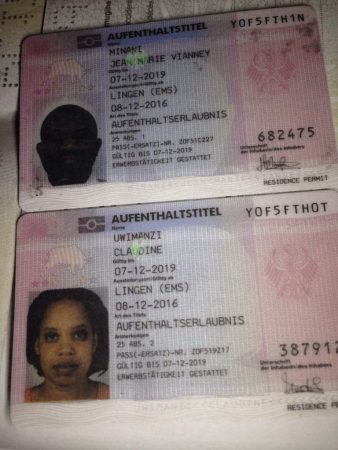 Madame wa Minani,  anyuze ku Mudamu nkawe, ngo erebe ko yagamburuza Buregeya ngo ave ku izima…
Yakoresheje uko ashoboye abashakaga kumwica barafatwa….
«Nahisemo gukoresha abavandimwe mfite (i Kampala, ndlr) mu kwirinda hanyuma igico Minani yateguraga n'abantu be ngo banyice, bafatirwa mu cyuho. Amaze kumenya ko agaco ke katawe muri yombi, yakwirakwije impuha aho ntuye muri Hollande ko ngo nkorana n'intagorwa z'abayisilamu; ko ngo najyaga nazijyana iwe. Mu kwifashisha inzego za polisi ya Kampala, nanasabye umucuruzi dukorana kwihutira kuntabariza mu nzego zo mu Ubudage ngo bate muri yombi Minani».
Ubu twandika iyi nkuru, amakuru dufite ni uko uyu Minani yaba ari mu maboko ya polisi n'ubutabera by'Ubudage. Kuru hande rwa Uganda ho, ibyo bisambo biracyari mu maboko ya polisi ya Uganda, yashoboye kubyaka amafranga y'amadolari y'abanyamerika angana n'ibihumbi ijana na mirongo itatu na maganatandatu (13.400$), asubizwa  Buregeya Ndayisaba Ali Ahomed.
Ibyo bisambo byafashwe ni uwiyita Bibicheq Bola bavuga ko ariwe wari ubahagarariye kandi ugaragara no ku mpapuro Minani yokoherezagaho amafranga (transfert d'argent); Uwimana Hussein Said, uvuga ko ari mukuru wa Minani kandi ko we na Bibicheq Bola baba Mbarara; uwiyita Liliane uvuga ko umugabo we yitwa Vianey uba muri Kongo, akanavuga ko zahabu yari iye,  ko ngo yari yaje gushashurwa; hari kandi n'uwo bita Emmanuel ngo wari ushinzwe iby'ubwanditsi bw'ako gaco hamwe na Khalid.
Amakuru yanyuma yizewe, dukesha abantu batandukanye bakorana bya bugufi n'inzego za polisi ya Uganda, aremeza ko uyu munyapolitiki, Minani J.M.V, ari no mu nzira zo gushyirwa ku rutonde rw'abantu b'abatekamutwe baba mu biguhu by'i Burayi bakorana n'imitwe y'amabandi yitwaje intwaro; bityo ngo akaba yashyirwa ku rutonde rw'abantu bashakishwa n'igipolisi mpuzamahanga bita  »interpole ». Tubitege amaso n'ibizakurikira n'abo bafatanije ubu bataramenyekana bose!